Many movies about businesses seem to emphasize lack of integrity (Wall Street, Jobs, Quiz Show,The Devil Wears Prada, etc.). The Founder is no different in that the story line certainly shows that the business world can corrupt people.  Is the filmmaker warning audiences about the perils of success?  Discuss.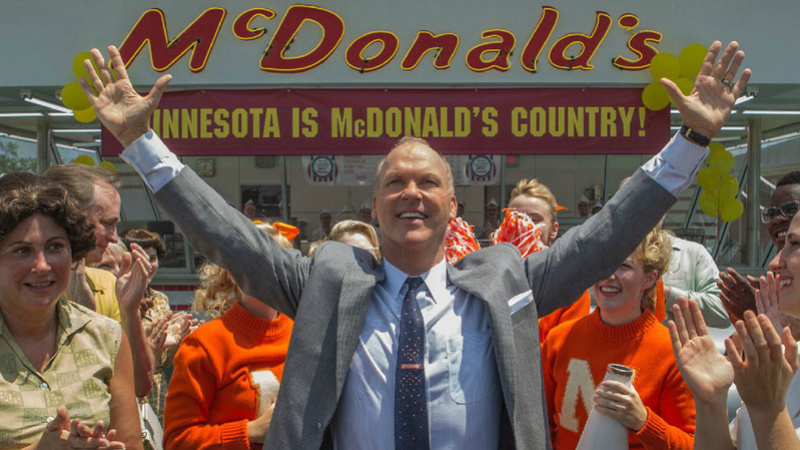 Admin




Posts

: 78


Join date

: 2012-02-07



Yes, I believe so. This movie shows how success can get to you. At first Ray admired the brothers for their brilliant invention and local success, but once he realized that he could exploit that, he had no problem with stabbing them in the back. The business world can be a scary place because you never really know who is on your side. Although Ray seemed like the kind of person that can really help their business, the brothers realized after a while that their decision to let them into their company was a huge mistake. People like Ray just look for ways to break contracts and take advantage of people for money, he never really cared about the brothers or their feelings, he just saw their success and said "I want that". The filmmaker was also trying to convey to watch who you trust for that reason because throughout the movie, Ray was a wolf in sheep's clothing.



Posts

: 12


Join date

: 2018-03-22



Business is portrayed in many movies just like how it is in real life. In the founder, MacDonalds started out as a nice local family restaurant, but because they trusted a business man to help their restaurant franchise, he took away everything away from them. The film maker is trying to send a message that it is important to make good contracts with no loop holes in order to not be exploited by greedy busniess men. The business world is tough and those with small businesses should be careful.



Posts

: 13


Join date

: 2018-04-06



Yes, I think the movie does warn the audience about success and it's perils. It shows that when success comes your way, or when you strike money, you only want more and forget moral values. Kroc seems like a hardworking man that struggles but becomes a ruthless man that cares for nobody and will do what it takes to be rich regardless of what it does to others.

Sent from Topic'it App



Posts

: 13


Join date

: 2018-03-20



The film does a very good job of giving us insight on how the business world can corrupt people. Ray Kroc was a quirky salesman who was just trying to make a living until he came across the first fast food place ever, McDonalds. He saw a good opportunity to make it into a franchise and he took it. He became so invested in it, that he was taking credit for everyone's ideas such as the Golden Arches, and the powdered-milkshake packets. He also took over the franchise and cut out of the brothers for good. The film gives the audience a message which is that having ambition, craving power or control, and being money hungry can influence you to make decisions that aren't necessarily right or better for others.



Posts

: 12


Join date

: 2018-03-20



Yes, the film does warn the audience of the perils of success. Before Kroc had money and power, he was a likable small time salesman. He seemed to be in a rough patch in life, and although he was not very successful, he had determination and persistence. It made the audience admire him for being so strong. As the movie progressed and he started to become more successful, he also started to become corrupt. He began by taking credit for others ideas, like Dick and Mac's restaurant. In the end, he stole the brother's dream and left them without any royalties or credit. The movie shows that good morals and business are on opposite ends of the spectrum. In conclusion, the movie focuses on the theme that one cannot have friends when it comes to business.



Posts

: 12


Join date

: 2018-03-22



I personally do believe that the film is warning about the perils of success. The example that it shows is Ray Krocks, and that when he saw that he was becoming successful he was also becoming a corrupted person. Previous to when Ray Krock had owned Macdonalds and had no real sources of money, he was a likeable small times salesman. Although he wasn't very wealthy he still had ambition and persistence to keep him trying to sell his milkshake makers. But, when he saw the success of the Macdonald's brothers and their business it was money that drove him to eventually assume control of their one location and to eventually turn Macdonalds' into his franchise, cutting the original owners off completely. Ray Krock was so consumed by his success and money that it even led him to get a divorce with his wife and turn to a new woman who appealed to Ray because her brilliant ideas for MacDonald's. Ray only thought of business and when it wasn't going well he would cut all connections with that person instantly, showing that he has his priorities wrong.



Posts

: 7


Join date

: 2018-04-16



I think the film maker is showing the good effects swell as the bad effects in buisness success. He first shows Kroc as a humble sales man that worked hard for what he had and was at first really nice to McDonald brothers and was just amazed of their way of doing things. As the movie progressed Kroc became more successful and getting the things he wanted in life much quicker then he did before and the film made him seem really guilty in the end and he wasn't that humble sales man anymore.



Posts

: 21


Join date

: 2016-09-21



I believe that the film is indeed a warning of the perils of success. This film shows what the business industry and the concept of power can do to people who are or aren't work obsessed. Ray was already taken over by the industry as seen through his increasingly intense devotion to his craft. However, this can also be an impact on people who do not share this attitude as depending on the viewer and their interpretation Kroc can be just a normal guy



Posts

: 9


Join date

: 2018-04-11



Yes I do believe this movie is used to show the perils of buissness and how it can often corrupt people. At the begging of the film Ray was a hard working respectable man who cared deeply for the people in his life, like his wife. But by the end of the movie, the greed he had and the influence the business world had on him made him a man who sold out his friends and divorced his wife, for the success and money he wanted.

Sent from Topic'it App



Posts

: 16


Join date

: 2018-03-21



In hindsight on the film The Founder, I do believe the filmmaker establishes a negative vibe towards the business industry. This in my eyes, is simple, as its due to all the backstabbing that goes on. For instance, as seen in The Founder, Ray Kroc completely takes over the McDonald's company, completely screwing over the McDonald brothers who just wanted to make an honest living with their one of a kind restaurant, that utilizes throwaway wrappers. Through the film, the filmmaker is providing the audience with a message. This message being you can be successful, just don't step on anybody's back for it. In the film, Kroc stepped on the McDonald brother's backs, and I'm sure it left most with a bad taste in their mouths regarding Kroc's actions. Therefore, this leads me to believe that if you are successful without hindering someone else in the process, that is the ultimate success, not just winning.



Posts

: 14


Join date

: 2018-04-18




---
Permissions in this forum:
You
cannot
reply to topics in this forum